Great Location which is 75 feet from the beach.3 Bedroom, 3 Bath, House, sleeps 10
No Pets, Non-Smoking
This house is huge for Fire Island and spaciously sleeps 10 people. There will be ice cold air conditioning in each bedroom. Located just steps from the beach on the Atlantic Ocean. A great feature of this house is that it's only an 18 second walk to the beach and ocean. For a large group that wants to rent one house and save money rather than having to rent multiple houses to fit your group, this is the one.
Rooms
Bedroom One: Has two sets of twin bunks
Bedroom Two: Has full bed and a set of twin bunks.
Bedroom Three: Has a full bed.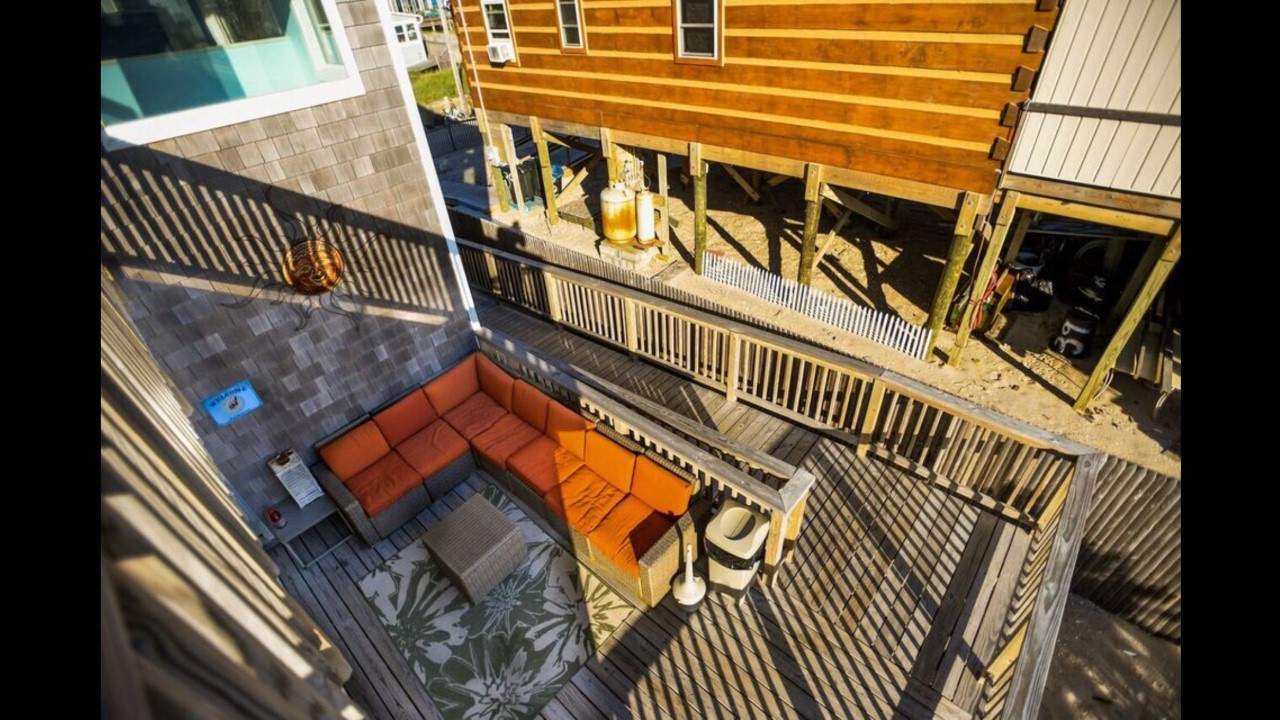 Rental Season Periods and Pricing
Rental Season Periods and Pricing
Our rental season begins in early May and goes through October. We rent generally two types of periods: Midweeks: Mondays at 3pm through Fridays at 10am Weekends: Friday at 3pm through Monday at 10am
May and June
Midweeks and Weekends (Please Call)
July and August
Midweeks are $5250
Weekends are $5750
September and October
Midweeks and Weekends (Please Call)
Holidays
Memorial Day Weekend is $6000
July 4th Weekend is $6000
Labor Day Weekend is $6000
Miss Fire Island Weekend (Please Call)
This property is registered with the County Of Suffolk Office of the Comptroller and all prices include 3% Suffolk County Hotel/Motel Tax.
[siteorigin_widget class="Events_CalendarWidget"][/siteorigin_widget]
Frequently Asked Questions
Do I need keys to the house?
The keys are inside a keypad that is attached to the front door of the house. You punch in the code that you are given before you show up, and the key comes out for your use.
From the Ferry, How do I get to 35 Seneca Walk?
Leave the wagon area and make a left at the police station on Bay View Avenue and go two blocks to Seneca Walk and make a right. Walk down Seneca Walk and the house is the second to last house on your right.
How far of a walk is the house from the ferry?
Our houses are about a five minute walk from the ferry terminal.
For More Questions visit our Frequently Asked Questions Page
The process is to check if your dates are available on the calendar to the right, then contact Stephen at (516) 721-7818 or via email to arrange the period. After we speak and arrange a period, we will fax a contract out for your review and you will return it along with payment prior to your stay. Late reservations may require either Fed Ex or similar delivery to avoid occupancy prior to funds clearing or arrival. Prior to your stay you will be given the codes to the key box located on the doorframe of the house. These codes will unlock the house, bikes, beach chairs and wagon.
And Much More! View all Amenities here.